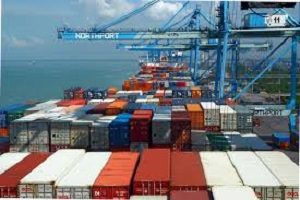 Factory At North Port Klang
north port klang factory
Northport
Northport Klang is owned and operated by Northport ( Malaysia) Bhd and comprises dedicated multipurpose port facilities and services. The Northport entity was a merger of two companies; Kelang Container Terminal (KCT) and Kelang Port Management (KPM). Its operations also cover South Port, which was renamed Southpoint for conventional cargo handling, and acquired Northport Distripark Sdn Bhd (NDSB) as part of its logistics division.
Port Klang is a town and the main gateway by sea into Malaysia, it is the largest port in the country. It is located about 6 kilometres (3.7 mi) southwest of the town of Klang, and 38 kilometres (24 mi) southwest of Kuala Lumpur .The Port Klang Authority administers three ports in the Port Klang area namely Northport, Southpoint and Westport . Prior to the establishment of the Port Klang Authority, South Port was the only existing port and was administered by the Malayan Railway Administration . Both Westport and Northport have been privatized and managed as separate entities. Port Klang is under the jurisdiction of the Klang Municipal Council (MPK).
Accessibility

Port Klang is the western end of the Federal Highway that links it all the way to Kuala Lumpur . The Kesas interchanges with the Pulau Indar Expressway in nearby Pandamaran connects to Westport and the PKFZ .
Main roads that link the Port Klang town, Southport and housing area are Persiaran Raja Muda Musa and Jalan Pelabuhan Utara. There is a frequent bus and Commuter train service to Kuala Lumpur via Klang.
Property Details
Type: Detached Factory cum Office
Tenure: Leasehold
Built-up: approximate 55,093 sq ft
Land area: 87,166 sq ft
Brand New
Posting ID: 572473
Air conditioning
Auto-gate
balcony
Barbecue area
Bistros / cafes
cable tv
central heating
Children playground
Club house
Concierge
dishwasher
electricity
elevator
F&B outlet
Garage
Garden lounge
Indoor and sky gymnasium
Infinity pool
Jacuzzi
Jogging track
Kitchenette
Launderette
lift
Multipurpose hall
natural gas
near church
near green zone
near hospital
near school
near shop
Parameter fencing
Parking lot
Reflexology area
Roller shutter
Sauna with changing room
Security / multi-tier security system
security system
Sky garden and pavilion
Spa
surveilance
Swimming pool
Tennis courts
terrace
Terrace / sky terrace
Visitor lounge
wi fi
Yoga deck