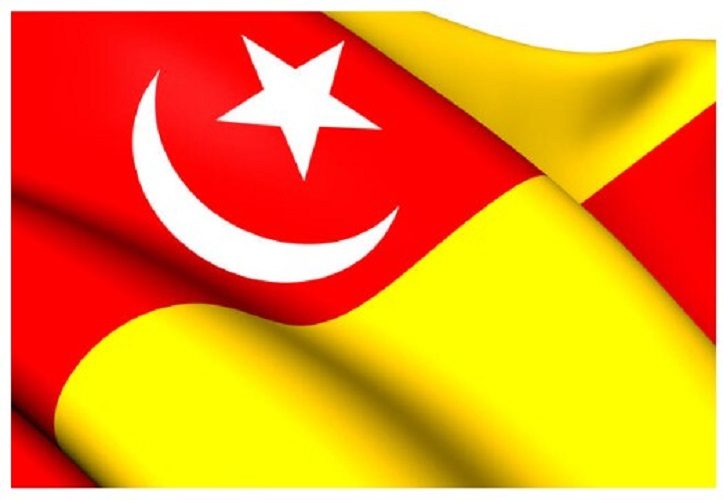 Selangor state government welfare
Did you know the benefits giving by The Selangor State Government Malaysia SSIPR to ALL it's citizens. ( T&C apply)
SSIPR Selangor
New born baby Rm1,500
Golden Age friendly scheme Rm100 monthly
Preschool Rm50 monthly
Free tuition classes
Rm1,000 when you enter College / University
Funeral expenses Rm2,500
KISS RM200 monthly Basic Necessity for B40 mothers group
Bus Smart Selangor
Benefit Program up to RM350
Free Mammogram checkup
Up to Rm500 yearly Medical expenses
0% interest Business loan up to Rm30,000
Free internet access – WIFI Smart
雪兰莪州政府给予所有公民的福利.(条款和条件适用)

新生婴儿 Rm1,500
黄金时代友善计划每月 Rm100
学前班每月 RM50
免费补习班
当你进入学院/大学时 RM1,000
丧葬费 Rm2,500
KISS 每月 RM200 , B40 妈妈组基本必需品
免费巴士
高达 RM350 的福利计划
免费乳房 X 光检查
每年高达RM500的医疗费用
0% 利息商业贷款高达 Rm30,000
免费上网 - WIFI 智能


To appreciate the great sacrifice of mothers, the Selangor State Government introduced a special welfare program among low-income groups B40.
为了感谢母亲们的巨大牺牲,雪兰莪州政府推出了一项针对低收入群体 B40 的特殊福利计划.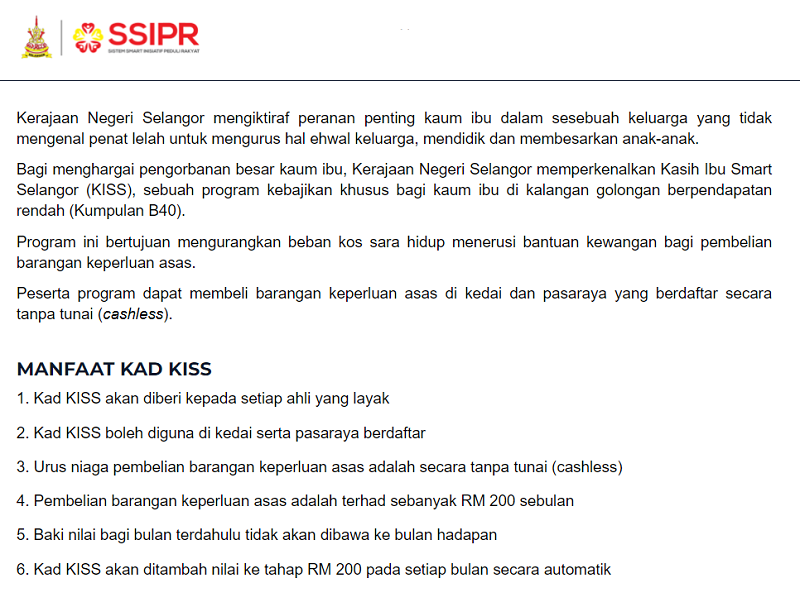 Bus Smart Selangor
The Selangor State Government has provided free bus services to to 3 Selangor Authorities namely Shah Alam City Council (MBSA) , Subang Jaya Municipal Council (MPSJ) and Klang Municipal Council (MPK).
雪兰莪州政府已向 3 个雪兰莪州政府提供免费巴士服务,即莎阿南市议会 (MBSA)、梳邦再也市议会 (MPSJ) 和巴生市议会 (MPK).

Benefit Program
Provision of temporary assistance given to eligible Selangor citizens up to RM350 per month to obtain basic needs in case of unavoidable life problem.
每月向符合条件的雪兰莪州公民提供高达 350 令吉的临时援助,以满足在不可避免的生活问题时的基本需求.

Voucher assistance
You can obtain vouchers specifically for low-income people in the State of Selangor to buy essential items for Hari Raya Aidilfitri , Chinese New Year and Deepavali celebrations.
您可以获得专门针对雪兰莪州低收入人群的优惠券,以购买开斋节、农历新年和屠妖节庆祝活动的必需品.
Health Care Insurance Scheme
Under the Health Care Insurance Scheme program, policy holders are entitle to basic health treatment benefits every year and basic coverage covering death, accident and critical illness coverage.
根据医疗保险计划计划,保单持有人每年都有权获得基本医疗福利和包括死亡、意外和重大疾病保险在内的基本保险.

Mammogram Scheme
Under the Women's Health Scheme providing free mammogram screening services to all women in the State of Selangor.
根据妇女健康计划,为雪兰莪州的所有妇女提供免费的乳房 X 光检查服务.

Healthy Help ( Bantuan Sihat )
This program to help low income Selangor citizens to get healthy treatment for minor surgery , Kidney dialysis , eye cataracts , prosthetic legs and other treatments that will be considered.
该计划旨在帮助雪兰莪低收入公民获得小手术、肾透析、眼白内障、假腿和其他可以考虑的治疗的健康治疗.

Rumah Selangorku Scheme
Eligible Selangor Citizens can apply to own house worth no more than RM250,000 through the Rumah Selangorku Scheme.
符合条件的雪兰莪公民可以通过 Rumah Selangorku 计划申请拥有价值不超过 RM250,000 的自己的房屋.

Technical & economic initiative
Smart Selangor Technical Skills and economic Initiative Program is a technical certification course where fees are fully covered by the Selangor State Government included fix allowance of RM300 per month.
Smart Selangor Technical Skills and Expertise Initiative Program 是一项技术认证计划,学费由雪兰莪州政府全额支付,另外还有每月 300 令吉的额外津贴.
Fund Scheme
Through this scheme the Selangor State Government will buy houses and Rent them out to low-income buyers. The house will be sell with the selling price minus a portion of the Rental paid. Participants of this program can carry out the purpose of purchasing the house unit in question within a period not exceeding 25 years at the original price of the house starting from the date it was first rented.
通过这项计划,雪兰莪州政府将购买房屋并将其出租给低收入买家。然后房子将以售价减去已付租金的一部分出售。该计划的参与者可以在不超过 25 年的期限内以房屋最初出租之日起的原价购买有关房屋单元的目的.

Smart Rent Scheme
The Smart Rent Scheme provides opportunities for low and medium-low income groups who are unable to make purchases,. Rumah Selangorku offered a Rental Scheme at a reasonable and affordable rate so that they can finally owned their own home in the State of Selangor.
智能租金计划为无法购买的中低收入群体提供了机会。 Rumah Selangorku 以合理且负担得起的付款率提供租赁计划,以便他们最终可以在雪兰莪州购买自己的房屋.


Applicable Benefits category