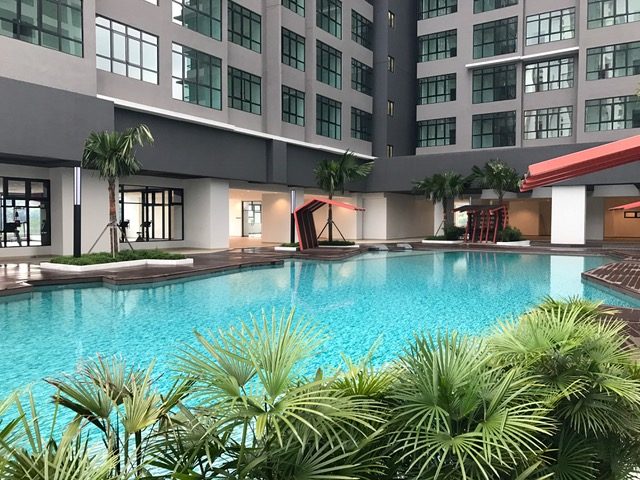 The 788-acres IOI Resort City showcasing the finest lifestyle in Putrajaya, bring together inspired residential enclaves with world-class shopping, entertainment, commerce, recreation and accommodation.
Conezion is a mix integrated development that features retail units, shop offices and serviced apartments. It is a part IOI Resort City; a modern, self-contained township that is located at the fringes of Putrajaya. The township is well known for its lush green landscapes and resort like environment, and includes various exciting facilities such as golf courses, hotels and commercial centers.
IOI City Mall, the mega-sized regional mall of Southern Klang Valley is a mere 700 metres from Conezión @ IOI Resort City. Offering an extraordinary and diverse selection of shops, facilities and amenities, it is a new generation shopping centre which draws large crowds from all over Kuala Lumpur. The spillover effect from the success of IOI City Mall will bring extra business opportunities for Conezión. The Conezion @ IOI Resort City is a stylish new development that is spread over 16.49 acres of prime Freehold land, with a proposal to build 14 blocks of shops and four towers of serviced apartments. There are a total of 445 shop lot units, whereas the four residential towers will contain a total of 1,326 units. The area surrounding Conezion @ IOI Resort City is not without the perks of various amenities as well. Shopping hubs for retail therapy include IOI City Mall, Alamanda Putrajaya, Equine Park's Giant Hypermarket and Mines Shopping Centre, which are all a mere 10 to 15 minutes drive away.
Having separately guarded ingress and egress points offer peace-of-mind round the clock. This modern eco city recently welcomed a new flyer over from Puchong/Petaling Jaya direction, so together with the existing two ingresses from the direction of Kajang/Cheras and one from Putrajaya, there are now total of four ingresses to ease the traffics toward IOI Resort City.
The, coupled with future-proof infrastructure, world-class shopping mall, and a fantastic golf course. On top of the existing greenery spread across the 320 acres land, IOI Resort City is surrounding by lush green lungs – Putrajaya wetland (one of the world biggest wetlands), UPM and Uniten's reserve green turf. The commercial units will soon be complemented by a vast business catchment of working class patrons following the upcoming IOI City Towers (proposed 101 storey building) and 5-stars Le Meridian Hotel nearby, and at night, the immediate resident catchment upstairs.