The Park Sky Residence (review) Bukit Jalil – services apartment .
Rental range between Rm1800 – Rm12,000 ( included commercial unit )
Sale range in between Rm 750k – Rm 1.5mil
For sale and rent Enquiry please contact us 0122928392
The Park Bukit Jalil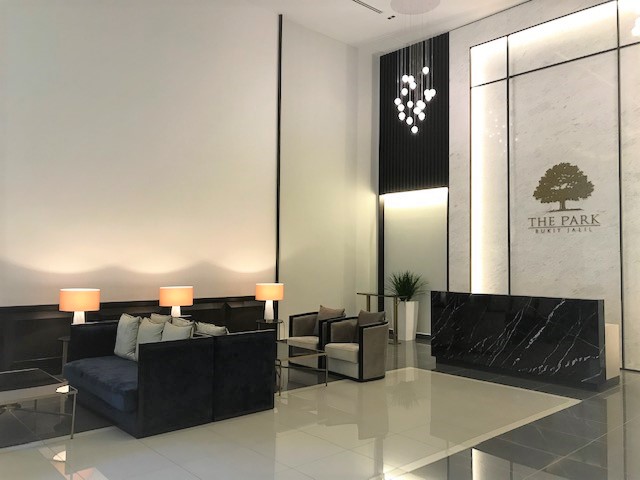 The Park Sky Residence service residence Bukit Jalil City adjacent Freehold residential and commercial that is located in the Bukit Jalil Neighborhood.
Covers 7.3 acres of land. Separate into four towers layouts and total of 1098 units.
In views Tower A has 40 levels and 251 units, Tower B has 46 levels and 298 units, Tower C has 46 levels and 298 units also and Tower D has 40 levels and 251 units.
The built-up space of this property is from 868 – 1,565 square feet. It has six different design layouts.
Type A which has a dual key has a built-up space of 1,565 square feet, three bedrooms, and bathrooms.
It is an integrated development that is well equipped with infrastructures for business, dining, living, entertainment, and retail at the park sky residence Jalan Persiaran Jalil 3, Bukit Jalil City Kuala Lumpur.
Types
 B1 – 1,103 square feet, three bedrooms, and two bathrooms.

 B2 – 1,044 square feet, two bathrooms, and three bedrooms.

 B3 – 1,061 square feet 2 bathrooms and three bedrooms

 C1 –   953 square feet, two bedrooms, and two bathrooms.

 C2 –   868 square feet, two bedrooms and two bathrooms.
The residential levels are start from level 7 total of 44 retail units by eight units per floor.
The price is from RM 750,000 while the price per square feet is from 91 – RM 1,233 while the maintenance fee is RM 0.35 per square feet .
Accessibility
This residence is accessible via Bukit Jalil, MRR2 Highway, KESAS Highway, Mex Highway, KL –Seremban Highway, LDP and Sungai Besi .
Education Hub Nearby
There are primary, secondary, specialist and international schools surround such like SMK Bukit Jalil (Secondary), Sekolah Sukan Bukit Jalil, Australian International School Malaysia.
Local primary school SJK(C) Yoke Nam, SJK(C) Lai Meng, SJK(C) Bukit Serdang, SJK(C) Ladang Harcroft, Taman OUG, SMK Seksyen 1 Bandar Kinrara .
And also Asia Pacific University of Technology & Innovation (APU), Technology Park Malaysia College, International Medical University (IMU), FTMS College and Asia Pacific Institute of Information and Technology (APIIT)
Furnished / Features
Partially furnished, with a built-in kitchen, sink, Electrolux washer cum dryer, refrigerator, microwave, water heater for the master bedroom.
This property has one of its sides facing the Bukit Jalil recreational park that covers 80 acres of land and accessibility to this park has been made easy for residents with a linked bridge, it has also neighboring with Golf Course and Country Club.
The other side faces the pavilion shopping mall , it has good connectivity and accessibility and also has a good level of convenience and is being tipped by some to become another Kuala Lumpur. 
Facilities & Amenities
Facilities includes a 50-meter Olympic-sized swimming pool, sky gym, spa and aromatic pool, kids water playground, tea pavilion, sky retreat, lily pond, perimeter fencing, multi-purpose hall, six car park levels, lift lobby, and it has a 24 -hour 3 -tier security system.
Basement car park
Drop Off Point
Perimeter Fencing
Lift lobby
Main entrance
Multi-purpose hall
Playground
24 hours security
Swimming pool
4 passages + 1 service lift
10 feet High ceiling 
Floor Plan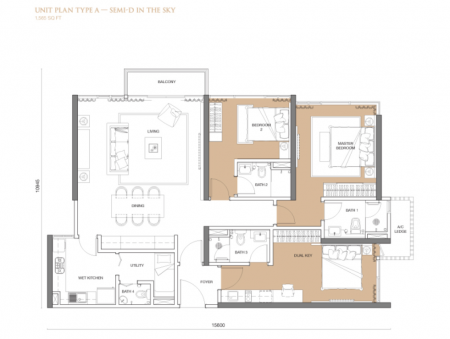 Type A
1565 sqft / dual keys / 3+ bedroom/ facing the park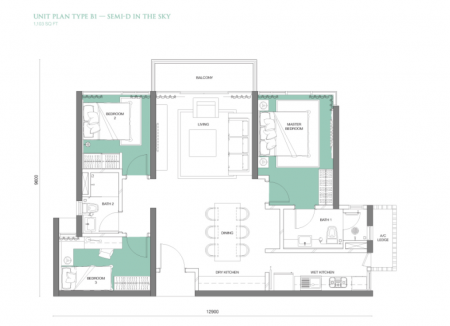 Type B1
1103 sqft / 3 bedrooms 2 bathroom / facing the park
Type B2
1044 sqft / 3 bedrooms 2 bathroom / facing the park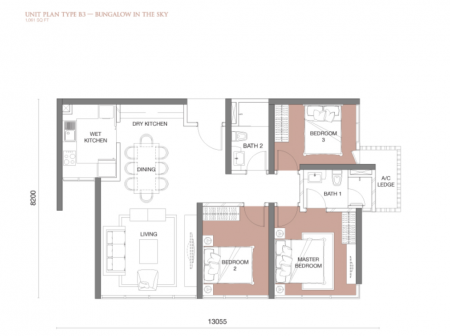 Type B3
1061 sq.ft / 3 bedrooms 2 bathroom / facing Pavilion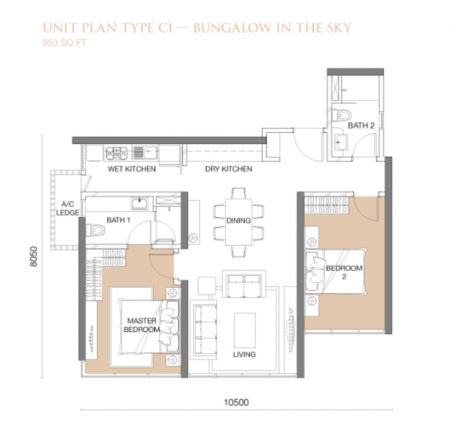 Type C1
953 sq.ft / 2 bedrooms 2 bathroom / facing Pavilion